Pure Select® Lipoprotein apheresis
LIPOPROTEIN APHERESIS
The thermoselection process or Pure Metisa® lipoprotein apheresis is an enhancement of the lipid filtration or double filtration plasmapheresis processes.
After plasma separation, the plasma is taken through a second filter that retains molecules or particles larger than 1,500 kDa, including chylomicron remnants,
very-low-density (VLDL) lipoproteins, intermediate-density lipoproteins (IDL), LDL-C and Lp(a) as well as fibrinogens. This basic principle is the same for all the processes mentioned. However, the additional heating of the plasma to almost physiological temperatures in the filter means another effect is utilised: adsorption and further compaction of the existing lipoprotein particles in the filter occurs, enabling an improved reduction of these particles (Thermopherese®). This is also a shift towards acute lipoprotein apheresis.
Our filters for plasma treatment contain membranes that are developed and produced in Germany for these special applications.
The SepaPlas®06* plasma filter offers excellent biocompatibility and optimised separation of plasma and blood cells. It is perfect for all plasma treatments. The FractioPlas®19* cascade filter was developed specifically for LDL apheresis. There is only a reduced need or no need for substitution fluid. EO-free, gamma sterilisation. In cooperation with our partner, we can offer alternative membrane and filter technology for various medical needs.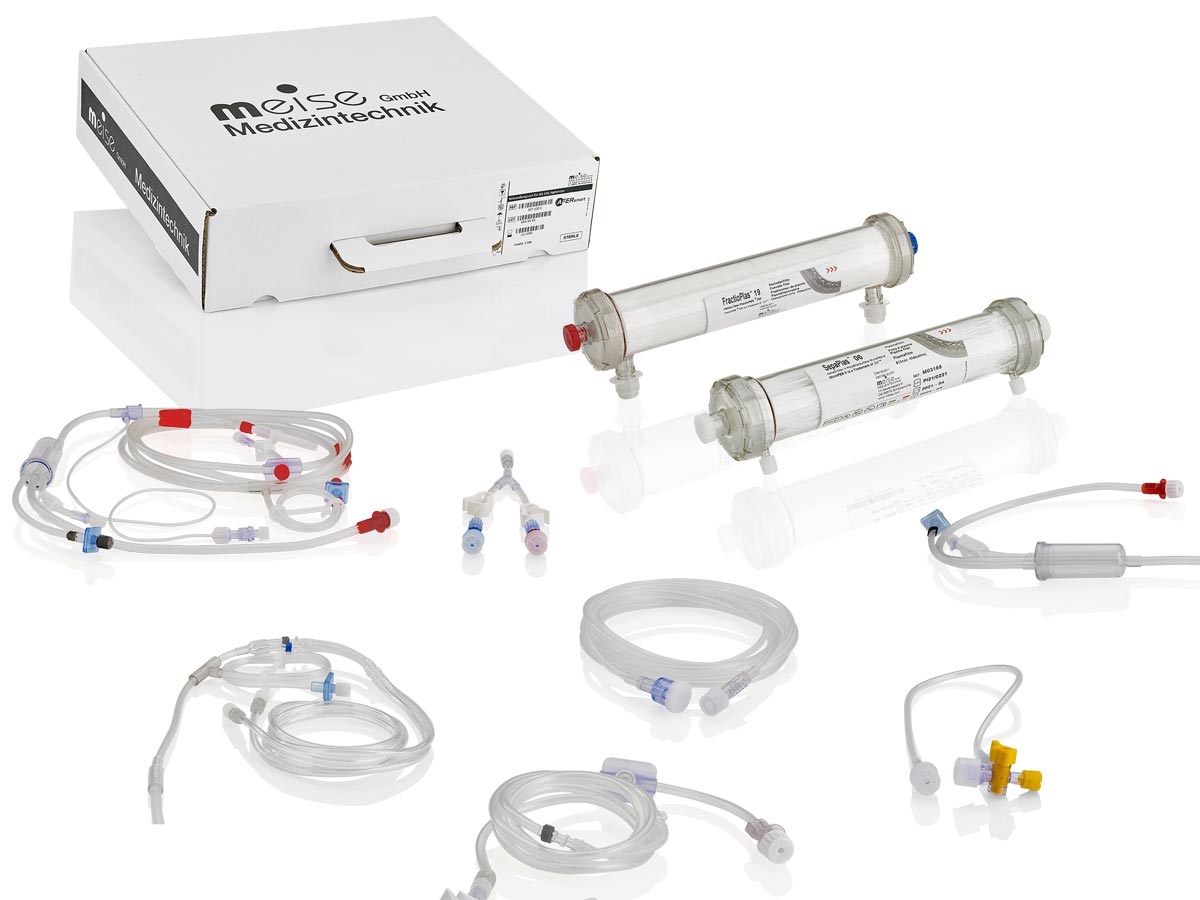 Components/Type
Set 100K
Art. Nr. 139000
Set 101K
Art. Nr. 139002
Set 130K
Art. Nr. 139009
Set 140K
Art. Nr. 139011
Plasma filter SepaPlas® 06* 0,6 m²
X
X
Plasma filter Plasmafilter Plasmacure PS-08** 0,8 m²
X
Plasma filter Plasmart 1000* 1,0 m²
X
Cascade filter FractioPlas® 19* 1,9 m²
X
X
X
X
Tube set AVFZ 650 KK
X
X
X
Tube set M90046
X
Adapter AD 675.1 KK
X
X
X
X
Heating hose AD 816.1 PK
X
X
X
X
Syringe 30ml
X
X
X
X